Creamy Mushroom Pork Steak
Seared Pork Loin Steak in a creamy garlic and mushroom sauce that makes a quick weeknight meal full of flavour and is sure to please everyone at the family table.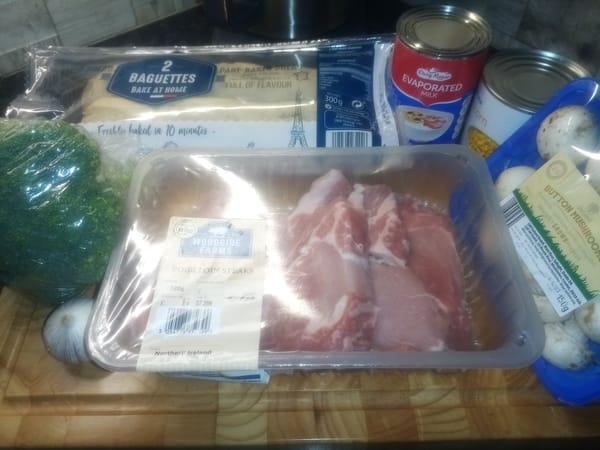 Serves: 4 - 6
Prep Time: 5 minutes
Cook Time: 20 minutes
Ingredients
2 tbsp of Olive Oil or Melted Margarine
4 - 6 Pork Loin Steaks
85g / 3 oz Mushrooms

(sliced)

2 Cloves of Garlic

(finely chopped)

250ml Evaporated Milk
Salt and Pepper to taste
Serving Suggestion
Pork Loin Steaks in a garlic and mushroom sauce is great when served with boiled baby potatoes or fresh mashed potatoes and a selection of vegetables of your choice for a hearty meal any night of the week.
Method
Add the Olive Oil (or Melted Margarine) to a large frying pan and turn heat to medium-high. Season both sides of the Pork Loin Steaks and cook for 3 - 4 minutes per side until they are golden brown and cooked through.

If you do no have a large frying pan, then cook the Pork Loin Steaks in smaller batches until golden brown.

Remove the Pork Loin Steaks from the pan and set aside.
Reduce the heat to medium, add the sliced mushrooms and cook until mushrooms are browned, usually 3 - 4 minutes.

Cook the sliced mushrooms until golden brown.

Add the finely chopped garlic and cook for a further 30 seconds.
Add 1 tbsp of cold water to the pan and stir to deglaze.
Add the Evaporated Milk slowly to the pan and, stirring occasionally, allow to simmer for 3 - 4 minutes. (if you prefer an extra thick sauce, add 1 tsp of flour or cornflour)
Add the Pork Loin Steaks back to the pan and simmer for another 4 - 5 minutes until the sauce thickens - ensuring the Pork Loin Steaks are fully cooked through and piping hot.
Serve your Pork Loin Steaks with broccoli, or a seasonal green vegetable of your choice, sweet corn and boiled baby potatoes - don't forget some crusty bread to mop up that creamy sauce too - enjoy.

Serving suggestion: Serve with baby boiled potatoes and vegetables of your choice.
Tips
Try hasselback potatoes instead of the boiled baby potatoes for an extra tasty twist.
For a different take on this recipe, add fresh chopped leeks and sliced onions when adding the mushrooms and use cooked Chicken Breasts instead of the Pork Loin Steaks.