Lentil And Carrot Soup
As the cold winter nights draw near, you'll find this healthy and protein packed soup recipe the ideal lunch to keep you going through the day - although, it can also make a very satisfying main meal of the day too.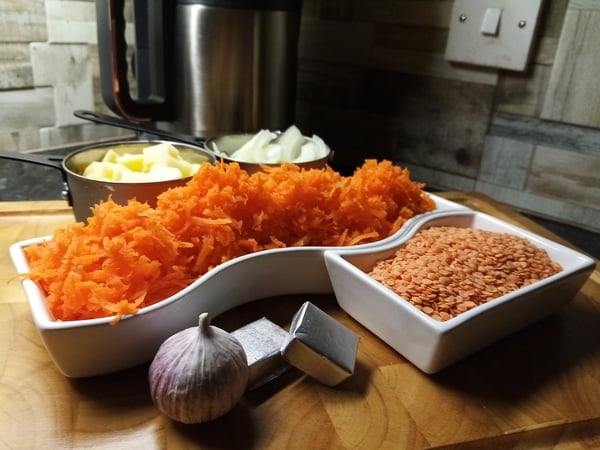 Serves: 4
Prep Time: 10 minutes
Cook Time: 20 - 25 minutes
Freezable
Ingredients
1 tbsp of Olive Oil or Melted Margarine
140g of Red Lentils
200g Carrots

(grated)

1 Small Onion

(finely chopped)

1 Medium Potato

(peeled and diced)

1 Garlic Clove

(finely chopped)

2 Vegetable Stock Cubes
1Ltr cold water
Salt and Pepper to taste
Serving Suggestion
Although this Lentil and Carrot Soup is delicious as is when served with your favourite crusty bread, you could always substitue up to 250ml of the cold water with fresh milk to add a creamier depth to the soup.
For those that like a little spice, try adding a pinch of chilli flakes or a few drops of sriracha sauce to the soup while cooking to add a spicy kick to your tastebuds.
Method
Add the Olive Oil (or Melted Margarine) to a large saucepan and turn heat on to medium-high. Place the chopped onion into the oil and cook for 3-4 minutes, stirring occasionally, until the onions brown slightly.

Cook the onions until slightly browned in the saucepan.

Remove the saucepan from the heat and add the chopped garlic, grated carrots, diced potato, lentils and, using a wooden spoon, mix the ingredients together.

Rustic Lentil and Carrot Soup with fresh garlic, carrots, potato, onions and lentils.

Add the 1 Litre of cold water to the saucepan and return to the heat, turning the heat up to maximum.
Crumble the two (2) stock cubes into the saucepan and bring the liquid to a boil.
When the liquid is boiling, reduce the heat to a simmer, give the mixure a final stir and cover. Cook until the lentils have softened ( usually 20 minutes ), stirring occasionally
Carefully use a hand blender to pulse blend the soup - if you don't have a hand blender, use a potato masher instead.
Serve your Rustic Lentil And Carrot Soup with a crusty bread of your choice, adding salt and pepper to your taste - enjoy.

Serving suggestion: Rustic Lentil And Carrot Soup, garnished with cream, fresh parsley and served with crusty bread.
Tips
If you like your soup a little thicker, use 750ml of water instead of the 1 litre given in the recipe ingredients above.
If freezing this soup, allow to cool completely then transfer it to an airtight and freezer-safe container and freeze for up to 3 months. Always reheat from frozen and ensure the soup is piping hot and cooked thoughout before serving.