Beef Casserole
Beef Casserole is a firm favourite with any family as it is a perfect winter warmer. It is a rich, melt-in-the-mouth meaty and hearty meal of tender beef, carrots, onions and mushrooms that helps put those cold winter nights behind you.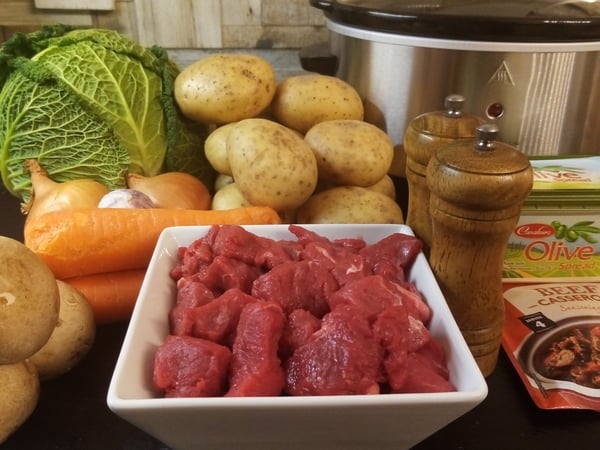 Serves: 4 - 6
Prep Time: 20 minutes
Cook Time: 4-8 hours
Freezable
Ingredients
1 tbsp of Olive Oil or Melted Margarine
700g - 800g of Braising Beef

(diced)

3 Medium Carrots

(cut into large chunks)

2 Small Onions

(cut into large chunks)

150g Mushrooms

(cut into quarters)

1 Garlic Clove

(finely chopped)

1 Sachet of Beef Casserole Mix
450ml Cold Water
Salt and Pepper to taste
If you are unable to obtain a sachet of Beef Casserole mix, add the following ingredients to the slow cooker after adding the other ingredients and stir well before cooking.

2 tbsp Tomato Puree
2 tbsp Worcestershire Sauce
2 Beef Stock Cubes or Stock Pots
Serving Suggestion
Beef Casserole is delicious when served with some steamed cabbage and mashed potatoes, however, you could substitute green beans or broccoli for the steamed cabbage to add a crisp and crunchy alternative.
If you have any Beef Casserole left over the next day, re-heat it (ensuring it is piping hot) and try it ladled over some extra thick-cut toast.
Method
Add the Olive Oil (or Melted Margarine) to a large frying pan and turn heat on to medium-high. Place all of the diced Braising Beef chunks into the oil and cook for 6-8 minutes, stirring occasionally, until the meat is browned.

If you do no have a large frying pan, then cook the diced beef in smaller batches until meat is browned.

Use a slotted spoon to remove the diced Braising Beef and place into the slow cooker.
Add the carrots and onion to the frying pan and, stirring occasionally, cook for 2 to 3 minutes until the onions brown slightly. Remove the frying pan from the heat and use a slotted spoon to transfer everything to the slow cooker.

Cook the carrots and onion together until the onions are lightly browned.

Return the frying pan to the heat and turn down to medium. Add 2-3 tablespoonfuls from the 450ml of water to the pan and stir with a wooden spoon to deglaze the pan. Turn off the heat and pour the liquid in the frying pan over beef and vegetables in the slow cooker.
Add the chopped garlic and the rest of the water to the slow cooker and spinkle the contents of the sachet of Beef Casserole mix over the beef and vegetables in the slow cooker and, using a wooden spoon, mix everything together.

A Beef Casserole ready to be slow cooked.

Turn your slow cooker to the low setting, replace its cover and cook for 8 hours, stirring occasionally. If you're in a hurry, you can always set your slow cooker to a high setting and cook for 4 hours, however, on the low setting the flavors of the Beef Casserole will develop better and the meat will melt in your mouth.
Regardless of your choosen slow cooker setting, 20-30 minutes before the cooking time is finished, add the quartered mushrooms and stir them into the casserole.
Serve your Beef Casserole with creamy mashed potato and steamed savoy cabbage, or a seasonal vegetable of your choice, adding salt and pepper to your taste - enjoy.

Serving suggestion for your Beef Casserole with mashed potato and steamed savoy cabbage.
Tips
Beef Casserole is a dish you can make up to 2 days ahead, then allow to cool completely, chill and reheat when you are ready to serve. The longer it is left the more depth the flavour will become. It can also be frozen for up to 3 months when you allow it to cool completely then transfer it to an airtight and freezer-safe container.
Always make sure the Beef Casserole is piping hot and cooked thoughout before serving.
If you want to make this Beef Casserole recipe stretch to serve more than 4 people, try using it as a filling for an extra large family sized pie, using ready-made puff pastry, which will serve 8 - 10 people.