Sweet And Sour Chicken
It's always a firm favorite Chinese takeout meal, but why not cook this restaurant favouite yourself at home? This recipe for a Sweet And Sour Chicken style meal shows that you can satisfy your tastebuds and your wallet too.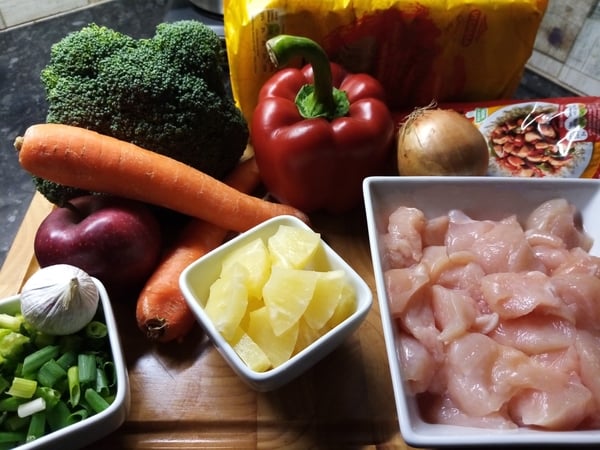 Serves: 4
Prep Time: 10 minutes
Cook Time: 20 minutes
Ingredients
2 tbsp of Olive Oil or Melted Margarine
400g Chicken Breast

(cubed)

1 Red Pepper

(seeds removed, and chopped)

1 Small Onion

(roughly chopped)

1 tin of Pineapple Chunks

(drain well)

1 Garlic Clove

(finely chopped)

1 Green Onions

(chopped)

1 head of Broccoli

(cut into florets)

1 Small Carrot

(sliced)

1 Small Apple

(diced)

2 Packs of Sweet And Sour Sauce
Serving Suggestion
Sweet And Sour Chicken is often served with cooked rice, however, give it a try over some egg noodles as an alternative - plus it adds an extra boost of protein too.
Method
Heat a large frying pan on high heat until hot. Add 1 tbsp of the Olive Oil (or Melted Margarine) and then place the cubed Chicken Breast into the oil and cook for 5-8 minutes, stirring continually, until the Chicken Breast is both golden and cooked through.

If you do no have a large frying pan, then cook the diced chicken in smaller batches until golden and cooked through.

Remove the Chicken Breast from the frying pan with a slotted spoon and set aside.
Reduce the heat to medium-high and add the remaining Olive Oil (or Melted Margarine) as well as the brocolli florets and stir frequently for 2-3 minutes.
Add the chopped garlic, sliced carrot, chopped red pepper and chopped onion to the frying pan then add 1 tbsp of water and stir frequently for a further 1 minute.

Preparing a Sweet And Sour style dish with broccoli, garlic, carrots, onions and red peppers.

Add the cooked Chicken Breast back to the pan as well as several chunks of the drained pineapple.
Reduce the heat to medium and add both packets of Sweet And Sour sauce to the frying pan, mix well and continue to cook for a further 1 - 2 minutes - until sauce is fully heated and hot.
Remove the frying pan from the heat and add the diced apple, stirring the apple into the mixture then pour the entire mixure into a serving bowl and garnish with chopped green onion.

Sweet And Sour Chicken garnished with chopped green onions.

Serve your Sweet And Sour Chicken dish with your choice of freshly cooked rice or egg noodles and enjoy.

Serving Suggestion: Sweet And Sour Chicken served on egg noodles with a side of crispy noodles.
Tips
For those that like their Sweet And Sour sauce a little more on the tangy side, add 2 tsp red wine vinegar and 1 tsp grated of finely chopped ginger to the sauce as it cooks. If you prefer it more sweet than sour, then add 1 tsp of sugar instead.
If you prefer the chicken in your Sweet and Sour Chicken to be battered then before cooking, place the diced Chicken Breast into a bowl, add a pinch of salt and 1 beaten egg. Mix well then add 3 - 4 tbsp of flour (or cornflour) and mix to coat the chicken then shallow fry in at least an inch of hot oil.